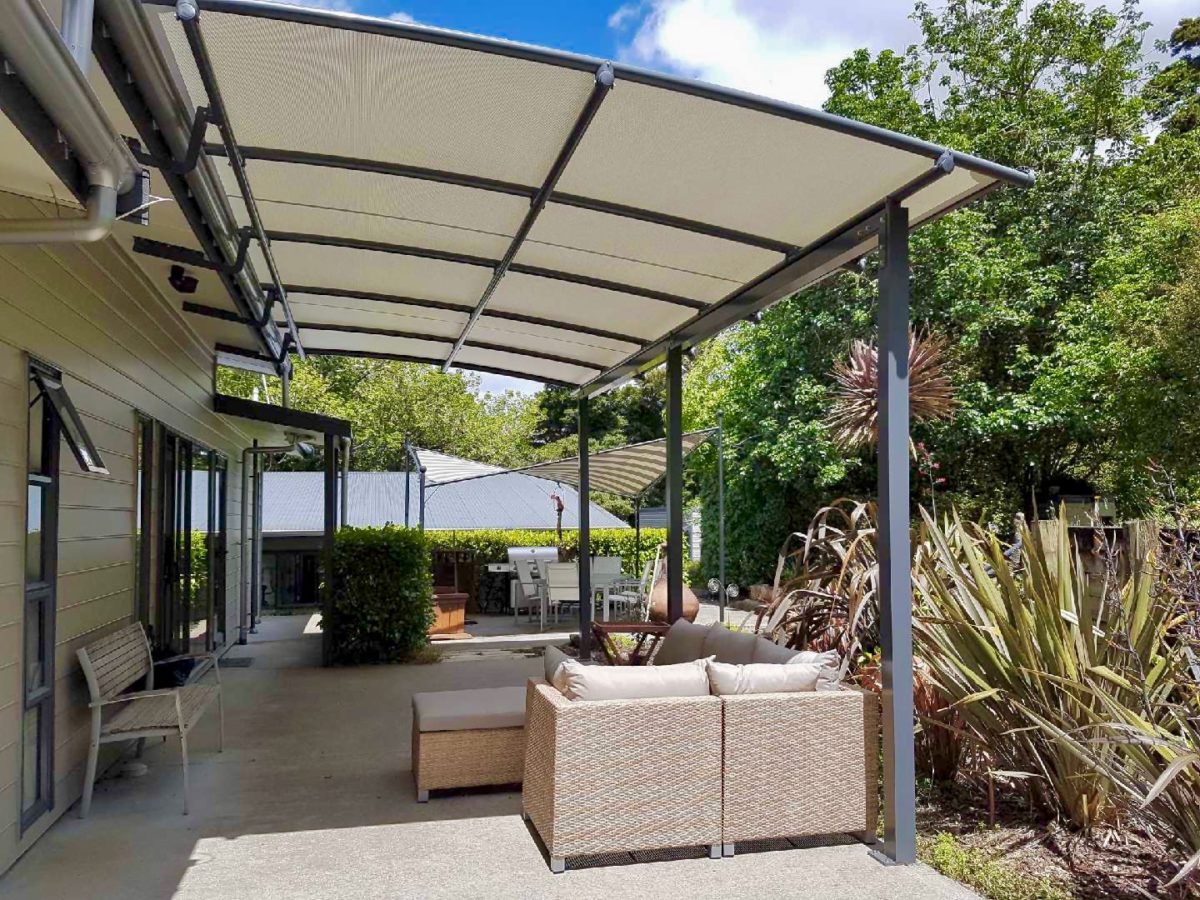 Our Pergola Awning Systems are the perfect solution for adding a stylish living area to your outdoor space. In house designed to your requirements our systems can be incorporated into a wide range of areas to compliment your existing structure.
Top quality construction ensures your pergola awning is a quality, no maintenance, long lasting product that will protect your outdoor area for many years to come.
Powder coated aluminium framework
Stainless steel components
Highest grade PVC membrane roofing fabrics
Your new roof system can be easily designed to incorporate drop screens to maximise your outdoor enjoyment.
Architecturally inspired designs
Aluminium framework with stainless steel brackets & fastenings
Dulux powder coating
Architectural grade PVC roof fabric in a wide range of colours and transparencies
Integrated drop screens (optional)
NZ manufactured
5 year warranty (structure)
10 year warranty (Fabric)
Please see attached documents for system information and canopy material options:
Originating in Europe, pergolas were traditionally used as garden features to form a shaded walkway or sitting area in gardens and courtyards. Upheld by poles, the pergola structure uses crossbeams or latticework to provide limited shelter from the sun while implementing an aesthetic design into the existing landscape. Their unique look is often enhanced by growing wooden vines along the beams. Pergolas can be freestanding or attached to a building, they are permanently installed and being used as a roof can add a stylish touch to your outdoor space.
Advantages of a pergola awning
The original pergola only offers limited protection from the sun due to its design. That may not always present the best possible solution considering the extreme exposure of New Zealand to sunlight and damaging UV-rays. However, combining the traditional pergola design with an awning will let you enjoy the outdoors in summer without having to worry avoid getting sunburn.
The roof-like structure is a great way to enhance your patio, deck or any other outdoor living area while still experiencing the natural surroundings in their full beauty. Pergola awnings can be used in residential and commercial areas and are built with premium quality materials to withstand the harsh New Zealand environment. Our structures are corrosion and maintenance free making them suitable even for properties in coastal areas. Furthermore, all our canopy membranes have the highest warranties and UV ratings on the market and are 100 percent waterproof.
Pergola awnings give you flexibility all year round. Enjoy a BBQ on the patio or have friends and family over to watch a game of rugby under the stars. Drop down screens can easily be incorporated into all our pergola roof systems, turning your outdoor space into a sheltered entertainment area. We can work with any existing structure and ensure that your pergola awning compliments the entire design.
If you'd like to find out more about how pergola awnings can enhance your outdoor space, why not give us a call today and receive a free, non-obligatory quote.