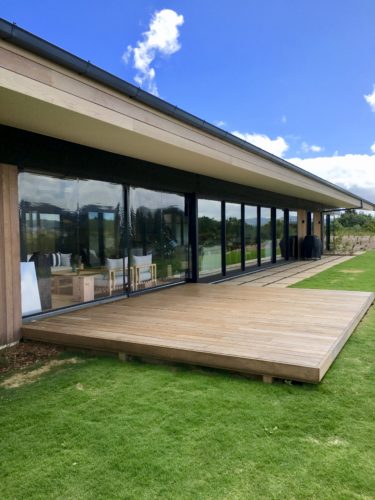 The Outdoor Blind incorporates simplicity, durability and style to offer you exterior climate control and privacy.
Operated manually or remotely, the screen is lowered into position, secured, then simply back tensioned to create a taught streamlined screen that offers complete weather protection and visibility.
Custom made in house to fit and match your exteriors dimensions the Simple Screen is the perfect balance of simplicity and style.
Dulux Powder coated Aluminium framework
Stainless steel componentry
Manual 7:1 gearbox or remote automated operation
Clear pvc or mesh fabric
Roller flashing (optional)
Side channel's (optional)
Roller Pelmet (optional)
Up to 4m wide x 3.0m drop (clear pvc)
Up to 5m wide x 3.0m drop (Mesh)
Please find documents for system information and material options:
Kiwis love being outdoors. Socializing on the back porch or having friends and family over for BBQs on the deck any time of the year is part of the New Zealand way of life. However, harsh weather conditions in any season can interfere with your party plans and even put you and your loved ones at risk. From catching a cold after sitting in a draught to suffering from serious sunburn and skin cancer are only some of the health issues you may encounter.
If you want to keep enjoying the outdoors in any season while protecting your friends and family from these weather conditions, our simple screen systems might be the perfect solution for you as they allow you to take control over your outdoor space. They provide café-style ambience for your exterior, allowing you to enjoy privacy and stay safe from harmful UV rays.
Designed and manufactured in New Zealand, you can be sure that our café screens withstand the extreme New Zealand weather conditions, closing off any area large or small and protecting you from the impact of the sun, wind and rain.
Customizable
Our simple screen systems are custom-fit to your surroundings with up to 4.5 metres in length and 3 metres in drop per screen. They can be installed in front of existing structures, at the ceiling or between two walls. They are strong and durable, providing protection as well as privacy and visual comfort. No matter how small or large the space, whether it's a balcony you'd like some extra protection for or an entire back porch, you can rest assured that our simple screen will properly cover the specified area.
Customize the look and design of your screen by choosing between automated or manual crankshaft operation as well as between a range of locking systems that suit your circumstances best. All our simple screen systems use clippable guides, making it safer around pets and children as there are no visible rivets or screws. With the help of a wireless remote control you can install and operate these awnings even on hard-to-reach windows or other areas.
Mesh vs. PVC
In terms of fabric you also have two options. Clear PVC gives you undisturbed visibility which is perfect if you want to keep enjoying the view of your backyard. It's 100% weatherproof and acts as a fire retardant. It's also extremely easy to clean. Our PVC is designed and manufactured in Japan, a country that is a market leader in innovation and quality products.
If you're not worried about the view as much but would rather add some stylish elements to your outdoor space, Mesh is the better option for you. With several colours to choose from, you can either create a stunning contrast to your surroundings or a seamless flow. Mesh blocks up to 97% of the harmful UV rays and allows continuous airflow while preventing heat from entering through, reducing the risk of overheating in enclosed areas.
Therefore, simple screens also provide an innovative solution to cover windows and help reduce power bills. Should your fabric need changing, the system does not need to be completely dissembled due to the automatic clip support. It's easy to install and easy to maintain.
If you'd like to know more about how a simple cafe screen system can enhance your outdoor living space, give us a call today and receive a free, non-obligatory quote. Our friendly team is happy to assist you and share their knowledge and advice to choose and outdoor screen system that meets your needs.
GALLERY: