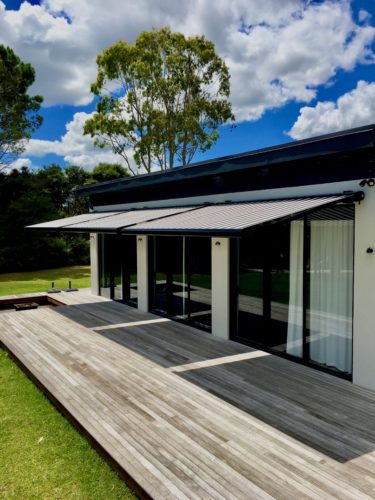 European engineered and manufactured in New Zealand the Cassette Awning combines maximum protection with modern design. The cassette design ensures fabric and awning mechanisms are completely protected and not compromised by the elements when retracted. Made with quality aluminium and stainless-steel components, the Cassette awning is proven to last in New Zealand's harsh environment.
Installed via face or soffit mount brackets and operated by a 7:1 manual crank or remote control motorisation.
European quality aluminium frame with stainless steel components
Custom Powder coated to match your exterior
Covered in 100% Solution dyed acrylic canvas cover
Manual crank or motorisation control
Face or Soffit mount
Integrated motion sensors (Optional)
NZ assembled
Sizing up to 6m wide & 4m extension
5 year warranty (frame)
10 year warranty (fabric)
Please see attached pdf documents to available systems and material options:
Advantages of cassette awnings
Due to the nature of its design, the cassette awning completely disappears when retracted, ensuring that fabric and steel mechanism are safely stored away when not in use rather than being exposed to the elements. This extends the lifetime of your awning compared to other designs, making it a valuable investment into your health as well as your quality of living.
Flexibility
Cassette retractable awnings can be mounted to the wall or ceiling, giving you a range of options to suit your existing structure. The stainless-steel structure can be retracted with a manual crankshaft or automated with the push of a button. Integrated motion sensors are optional, giving you peace of mind that the awning will automatically retract in harsh weather conditions such as high winds as well as at night-time should you ever forget.
Durability
The elements can take their toll on any outdoor fabric. Over time, natural fading may occur as well as wear and tear from constant exposure to moisture and wind. All our cassette retractable awnings are covered with 100% solution dyed acrylic canvas fabric which is far more durable than the old-fashioned cotton. It's proven to withstand the harsh New Zealand climate, it's mildew-resistant and one of the most colourfast fabrics in the world. With more than 130 vibrant colours to choose from and a 10 year warranty you can let your true self shine for years to come.
If you'd like to learn more about our cassette retractable awnings and how they can enhance your outdoor space, simply give us a call today and receive a free, non-obligatory quote.
GALLERY: