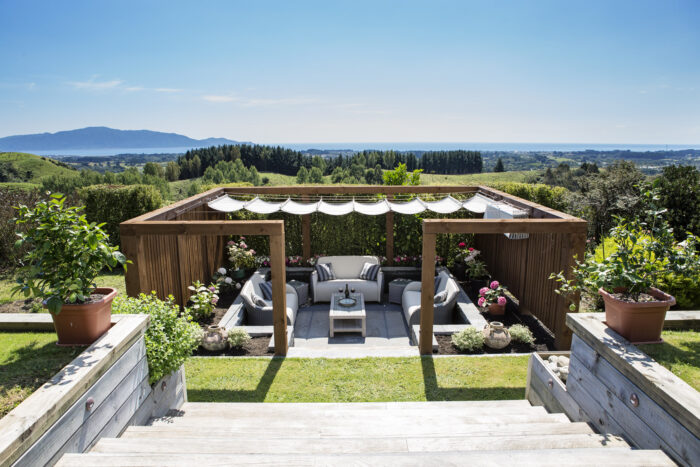 There are plenty of traditional shade options available for property owners to enjoy the hot Kiwi summer on the patio without risking a sunburn. However, for those that crave a more unique approach to enhance their indoor or outdoor living environment, a Wave Shade might be the perfect solution.
Rather than being a fixed instalment, the distinctive design of the Wave Shade allows it to transform whenever you need it to, retracting away if you want to bathe in the sun and extending out when it is time to cool down in the shade. Made for daily use, Wave Shades give you premium protection by blocking out harmful UV rays. They also withstand light to medium winds up to 32kph.
Customizable
Influenced by the stunning New Zealand coastline, Wave Shades are the perfect aesthetic addition to Kiwi homes as well as for the commercial market. There is a wide range of modern fabrics and colours to choose from which seamlessly integrate with any existing style. You can also select the number of billows on the shade and how deep you would like them to hang.
Versatile
Wave Shades are individually crafted to fit your surroundings, allowing you to create a personalized space while enjoying the benefits of high-quality craftsmanship. They can be installed over decks, patios and gardens and work well under existing glass or polycarbonate roofs. Indoors, Wave Shades can act as a stylish ceiling feature and acoustic buffer.
Durable
Manufactured in New Zealand, Wave Shade retractable shade covers are built to withstand even the toughest conditions. They come with a 5 to 10-year warranty on components and fabrics, giving you peace of mind that you can enjoy your investment long-term. All fabrics have superior colour retention, are tear-resistant and easy to clean.
User-friendly
The Wave Shade design is light in weight and easy to use. Sliding on two-wire cables that are tightened around the perimeter, the billowing shade cover is easily retractable via an aluminium pole or a cord loop whenever you need to.
If you'd like to find out if a Wave Shade cover is a perfect fit for your outdoor space, simply give us a call today and receive a free, no-obligation quote.