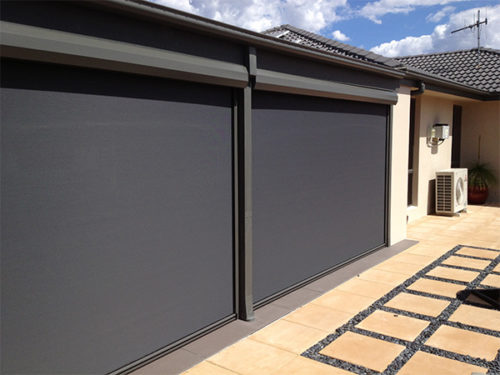 Ziptrak is a patented unique track guided system which ensures protection from all weather with ease of use.
The track guided system has specially designed slotted tracks in which the screen glides smoothly and easily, stopping at any position. Screens can be secured and locked in the down position to guard against high winds and UV – no zippers or winders required.
Screens can be custom fit to your area, operated manually or electrically and with fabric options of clear pvc or shade mesh your new Ziptrak screens will connect your indoorand outdoor environments into one harmonious space.
Powder coated aluminium framework
Stainless steel componentry
Manual or remote automated operation
Clear pvc or mesh pvc screen options
Roller flashing & pelmets (optional)
Up to 6m wide x 3.0m drop (mesh)
Up to 5m wide x 3.0m drop (Clear)
Australian manufactured
NZ constructed
5 year warranty (system)
10 year warranty (mesh)
Please see attached for information on Ziptrak system and screen material options:
If you're looking for a harmonious way to combine your indoor and outdoor space or would like to increase your living area by creating additional outdoor space, then a Ziptrak screen system might be the perfect choice for you. Ziptrack screens are often used for café or restaurant patios due to their durability and aesthetic design, offering customers the opportunity to dine in style and comfort throughout the year.
Ziptrak screens are also a great way to extend your usable space at home or in schools by enclosing a veranda, courtyard or porch. The vertical screen system is easy to operate, fully weatherproof and provides comfort and protection from the elements all year round.
Simple operation
Designed and engineered in Australia, Ziptrak is an award-winning track guided blind system that gives you full control over your outdoor space. Specially designed aluminium side channels on either side of the blind enable the fabric to move smoothly along the tracks. Simply choose between manual or automatic operation. Ziptrak screen systems are easy to install and versatile to use. They glide up and down effortlessly and stop in whatever position to require them to.
Because they are custom-fitted to whichever area you want to use them in, there is no need for tedious zippers, buckles, ropes or any other means to hold them in place. They simply stay put. Furthermore, with the fabric locked into the tracks, there are no gaps, which prevents your screen from flapping around in the wind and keeps the draughts out. Ziptrak screens also provide simple and quick exits.
Customizable looks
With a wide range of fabrics and materials to choose from, you can customize your Ziptrak screen system to reflect your very own personality or your business philosophy and easily blend in with the environment. Whether you prefer clear PVC or shade mesh fabric for a bit more privacy, whether you're looking for something sophisticated or whacky, classic and traditional or stylish and modern; there is something for everyone.
Shadeview mesh is the right choice if you're looking for a more colourful fabric that diffuses light while optimising your view. Whether you prefer classic chocolate, beige or black or perhaps a more unique design such as almond, bracken or emerald, with 25 different colours to choose from you're bound to find the perfect match.
If you require a completely see-through solution with an entirely unobstructed view, clear PVC designed and manufactured in Japan is your best option on the market.
Whatever option you choose, because the surface of a Ziptrak screen is extremely flat, it's the ideal surface to add corporate signage. Free advertising for your business while your customers are having a fabulous time on your outdoor premises.
Durable and protective
Because we only deal with the best on the market, there is a 10-year warranty for all our Ziptrak screen fabrics. They are extremely durable and provide full protection from wind and rain as well as from the harsh New Zealand sun.
Our shadeview mesh is proven to successfully block up to 97 percent of sunrays, thus providing shelter from harmful UV rays while also reducing the temperature inside your home or business during the hot summer months. It also helps keep in heat during winter which in turn helps to save energy and you can enjoy your outdoor space regardless of weather or season.
If you'd like to know more about how our Ziptrak screen system can enhance your outdoor living space, give us a call today and receive a free, non-obligatory quote.
GALLERY:
ROLLER OPTIONS:

STANDARD COLOUR OPTIONS:

DESIGN ELEMENTS:

FOR MORE INFORMATION ON ZIPTRAK SYSTEMS: