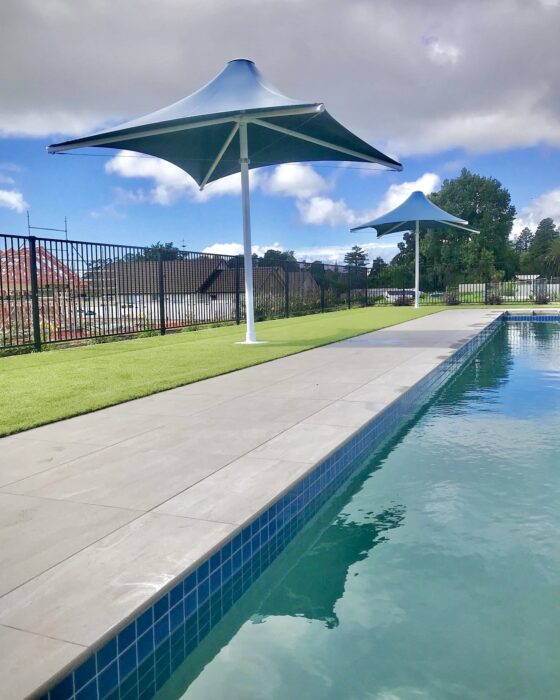 While available options for umbrellas are numerous, the amount of options for high quality architectural grade permanent structural umbrellas a very few. This is where SkySpan umbrellas present the perfect solution. They can be installed into most surfaces including concrete and timber and provide shaded space in comfort and style. The elegant atmosphere created is ideal for settings such as decks, balconies, pools, restaurants and cafes, amphitheatres, beachfront or any other public area.
Durable
Skyspan umbrellas are well-suited for New Zealand coastal areas. Unlike lightweight umbrellas, they are designed and engineered in Australia to be extremely durable and withstand winds up to 120kph. Their framework consists of high tensile,  powder coated, corrosion-resistant aluminium and stainless steel components. Unlike traditional umbrellas that have loose fitting fabric canopies the Skyspan systems offer a high tensile architectural grade waterproof pvc canopy. A 10-year warranty gives you the assurance that you can enjoy the benefits of your umbrella for a very long time.
Customizable
With several size and shape options to choose from, the retractable umbrellas will seamlessly fit into your existing environment and transform it into a sophisticated outdoor space. The powder coated framework can come in any Dulux colour and the canopy has 40 colours to choose from. Optional features include up and down-lighting, integrated infrared panel heaters, misting systems and zippered side curtains.
Beneficial
SkySpan retractable umbrellas require little to no staff attention. There is no need to take them down at the end of the day, SkySpan umbrellas are made to work around the clock. If you do need to lower them, the innovative rack-and-pinion gear mechanism makes retracting extremely easy while the anti-jam crank lift ensures a swift opening and closing of the canopy. The handle can also be removed for a cleaner appearance and to avoid unwanted operation.
If you'd like to know more about SkySpan retractable umbrellas and how they can enhance your outdoor space, simply give us a call today and receive a free, non-obligatory quote.
Skyspan Cafe Portable Brochure
Soltis 502 Canopy Material Brochure  
Gallery