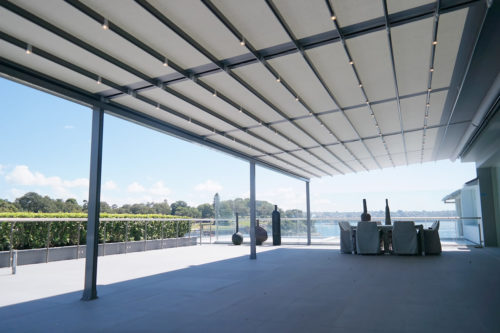 Our range of architecturally inspired retractable roof systems are suitable for use in a large range of residential and commercial applications for all weather conditions.
Whether your looking to cover your outdoor area, restaurant or just looking to add an extra designer space we have a system to suit.
Designed and built using only the highest quality materials our systems can be integrated into existing structures, be freestanding or cantilevered into almost any area.
Systems retract and extended simply with the touch of a button and with options for wind and sun sensors, lighting, drop down screens and infrared heaters your outdoor space will be transformed into an all year round entertaining area.
Aluminium & Stainless steel construction
Remote control motorisation
Custom Dulux powder coating
PVC rain & sun protection membrane skin
Internal gutter & water drainage systems
Intergrated wind & sun sensors (optional)
LED lighting, drop screens & infared heaters (optional)
Rated to Beaufort scale 10
NZ assembled
Sizing up to 150m2
5 year warranty