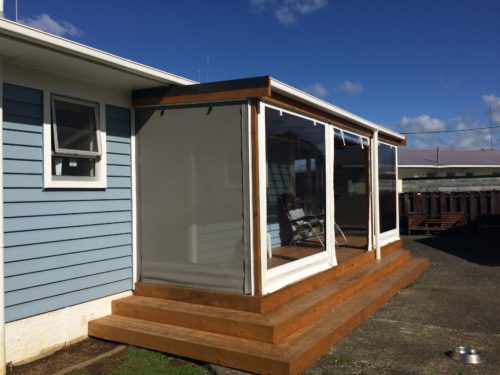 Our Hand Rolled Screens were first designed and developed by Palmer Canvas many years ago to meet a demand from our customers to add more weather protection to their outdoor areas. Our original design has evolved with time and material advances to offer you our most efficient, customisable, budget friendly outdoor screen.
The Hand Rolled Screen is attached via aluminium extrusion, opened and closed with UV-treated zipping and simply tensioned by webbing straps mounted to a weighted bottom bar.
Fire retardant clear PVC or PVC mesh, screens are manufactured using a heat welding process to offer you the most durable product built to last in our outdoor environment.
Aluminium extrusion in white, silver or black
Clear PVC or mesh
Coloured PVC trim and reinforcements (choice of colour)
Manual hand roll operated
Up to 4m wide x 3m drop
Customisable shape
NZ designed & manufactured
Gallery:
Whether it's having a BBQ with friends on the deck or enjoying a good book while relaxing in a comfy armchair on the patio, Kiwis love spending as much time outside as they can no matter what season it is. However, the sometimes harsh New Zealand weather conditions can quickly spoil any outdoor activity, be it due to heavy rains and winds in winter or extreme heat and harmful UV rays in the summer.
If you have an outdoor area such as a patio, deck or terrace and would love to utilise it all year round, but don't have the money to invest in big screens or awnings to protect you from the elements, then our Hand Rolled Screens will be the perfect solution for you. They are affordable, versatile and can easily be customised to suit your needs while giving you privacy and protection at the same time.
Designed and manufactured in New Zealand for more than 30 years, our Hand Rolled Screens offer the best value you can get for little money. They are easy to install, easy to use and to maintain and will give you peace of mind that you and your loved ones are kept safe from wind, rain and the dangerous impact of too much exposure to heat and sun.
Advantages
Palmer Canvas Hand Rolled Screens were first designed more than 30 years ago for people on a budget who wanted and needed to add privacy and protection to their outdoor areas without spending a fortune. They are the cheapest option on the market without compromising on quality, durability or choice.
Not only are our Hand Rolled Screens extremely versatile and usable in a range of different environments. They are also our most customisable product when it comes to size and shape. In addition, choose from different colours for the aluminium extrusion as well as the screen reinforcement.
Mesh vs. PVC Screens
Whether you're after adding a protective layer as well as aesthetic value to your outdoor area while keeping the view intact, or whether you prefer a bit of privacy from nosy neighbours and full protection from the elements, with our two options of fabric the choice is all yours.
Clear PVC is almost glass-like so you can continue to enjoy undisturbed views of your surroundings such as your backyard or garden. It's also 100% weatherproof and acts as a fire retardant. Clear PVC is extremely easy to clean, but not quite as versatile as clear mesh.
If you're not worried about the vista as much but rather about privacy and weather protection, clear mesh is the better option for you. With several colours to choose from, you can either create a stunning contrast to the surrounding area or a seamless flow to the rest of your property.
Mesh blocks up to 97% of the harmful UV rays and allows continuous airflow while preventing heat from entering through, reducing the risk of overheating in enclosed areas. It's also a great way to keep sheltered from wind and rain, allowing you to use your outdoor space throughout every season. It also acts as an insect repellent, preventing annoying bugs such as sand flies and mosquitoes from entering your outdoor living area.
If you'd like to know more about how our Hand Rolled Screen Systems can enhance your outdoor living space, give us a call today and receive a free, no obligation quote. Our friendly and experienced team is happy to assist you and share their knowledge and advice to choose an outdoor screen system that meets your needs and suits your budget.